Most people from overseas may be wondering when you see big sushi rolls are sold in stores today, 2nd Feb.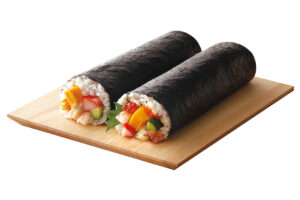 It's called 'EHO-MAKI'. Today I'm going to tell you about all of this unique culture! 
The Roots
It is said that Eho-maki originated around Edo era and Meiji era, from Osaka. People (mostly merchants and Geisha, traditional female Japanese entertainers) ate it while wishing their business success and prosperity. Basically they put 7 ingredients inside after 七福 shichi-fuku (seven good lucks). 
How to eat
This is the most unique part of this traditional culture! We eat this huge sushi rolls as wishing and facing lucky direction of the year but no talk, non-stop. The rolls isn't cut for ease to eat so it's kind of hard maybe for children. Mothers give sushi rolls to family one each and they sit, facing the lucky direction and just eat while wishing, no talk and non-stop eat at once!  I know your feeling, it sounds joking right? Yes, actually I was same when I knew this. The reason why no talking and non-stop is to prevent luck go away when you speak and get huge luck as eating at once.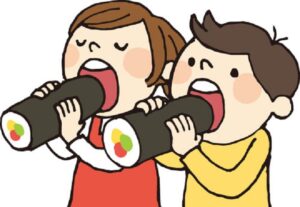 Date and direction to eat this year
We eat Eho-maki on Setsubun 【節分】which is one day before Risshun【立春】(The day beginning spring on calendar) and this year's the lucky direction is south-Southeast. Setsubun is fixed based on Risshun, and Risshun is announced by NAOJ. I was surprised because this year's Risshun is 3rd Feb but it has been 4th Feb since I was born. NAOJ decide the day by many reasons (just let me cut explain of reasons, too complicated!) but the day has been 4th since 1897, wow that's why I thought it is weird to be set earlier!
★★
Many different ingredients Eho-maki rolls are sold these year. You can even buy them at convenience store! and I believe  you will be surprised when you see rolls and rolls everywhere and all of them looks so delicious! I hope you enjoyed this page and try then you'll know more about JAPAN!