HIPPO HOUSE WARABI is a spacious building that offers comfort for those who need the space. Large common areas (kitchen, living room) and pleasant bamboo garden out back for some relaxation on your off days. Bike parking and a variety of rooms (Japanese and Western style) make this a popular choice for international students and young professionals.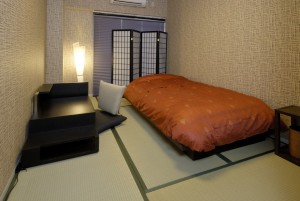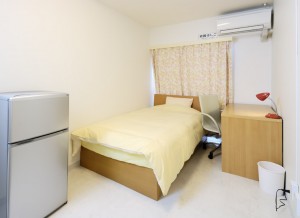 The house is popular among those who want to benefit from the international experience as many tenants are from various parts of the world. 

========================================
Address: 2-21-9 Shibanakata, Kawaguchi-shi, Saitama
Traffic:15 minutes on foot from Warabi Station of JR Keihintohoku Line. 
Capacity: 36 room
Structure: 4-storied reinforced concrete building 
========================================
【Contract period】 
fixed term of 11months (renewable)
【Rent & Common Fee】
Please refer to [Vacancy list] above
※ Breakdown of Common Fee
Cleaning management fee · Electricity
Gas · Water fee · Internet usage fee (ALL INCLUDED)
Consumables expenses
(toilet paper, kitchen detergent, etc.)
========================================
【Initial cost】
Current month rent and next month's rent
+Entrance fee : 30,000 yen(Tax not included)
+Cleaning fee at the time of departure:15,000 yen(Tax not included)
+Guarantor fee: 20% of total monthly rent (10,000 yen min.)
========================================
About The Guarantor Company

Cumpany name:
Global Trust Networks Co.,Ltd. (GTN)
● Guarantor Fee:
  20% of total monthly rent collected
(When it is less than 10,000 yen ,It will be 10,000 yen.)
● ① + ② documents required
①
Submission of a copy of the residence card
and Copy of passport is required

②Attribute certificate
For Students
Student:ID card
Before enrollment:Enrollment permit or acceptance notice

For Workers
In office : Health insurance card or salary details for three months
Before joining the company : An agency notice letter or employment contract
※ Family emergency contact in home country and Emergency contact in Japan
 are both necessary.
========================================
【Other expenses】
※ Contract Renewal Fee:
 15,000 yen(Tax not included)
※ When leaving Exit management fee
5,000 yen (Tax not included)
========================================
【OPTIONAL】
・Spraying Insecticide:8,000 yen(Tax not included)
・Bedding sales:10,000 yen(Tax not included)