We would like to introduce a new comer Hippo House Nishiarai.
Nishiarai is one station beyond Kitasenjyu which is a terminal station of Tobu Sky Tree Line.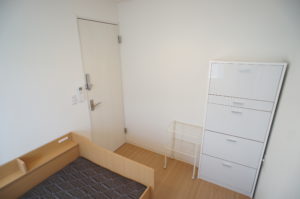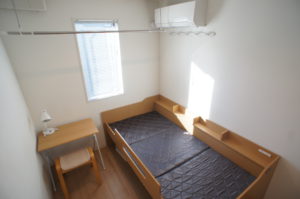 By sharing tracks with Hanzomon Line and Hibiya Line, Tobu Sky Tree Line is very
convenient to go to major stations in Tokyo. Within 3 minutes walk from Hippo House Nishiarai, there are Seveneleven and drag store. Also you can find shopping area including movie theater called Ario in 8 minutes walk from Nishiarai station.

The house is designed to have a good communication among tenants. In order to reach
to own room, all tenant needs to go through common area in the 1st floor.
So, you may say and hear Japanese style greeting such as Tadaima" or "Okaerinasai ! in the commen area so naturally.


========================================

Adress:
1-7-9, Nishiaraisakaecho, Adachi-ku, Tokyo, 123-0843, Japan

Tobu Sky Tree Line "Nishiarai" station 5 minutes on foot

【Contract period】 
Fixed term of 11 months (renewable)
【Rent & Common Fee】
Please refer to the VACANCY LIST. 
※ Breakdown of Common Fee
Cleaning management fee · Electricity
Gas · Water fee · Internet usage fee (ALL INCLUDED IN RENT)
Consumables expenses
(toilet paper, kitchen detergent, etc.)
========================================
【Initial cost】
Current month rent and next month's rent
+Entrance fee : 15,000 yen(Tax not included)
+Cleaning fee: 20,000 yen(Tax not included)
+Guarantor company fee: 20% of total monthly rent
========================================
About Guarantor Company

Company Name:
Global Trust Networks Co.,Ltd. (GTN)
●Guarantor fee:
  20% of total monthly rent collected
(10,000 yen minimum)
● ① + ② documents required
①
Submission of a copy of the residence card 
and Copy of passport is required

② Attribute certificate
For Students
Student:ID card
Before enrollment: Copy of application or acceptance notice copy

For Workers
Health insurance card or salary details for three months
Before joining the company : proof of employment or employment contract
※Family emergency contact in home country & Emergency contact in Japan
 Is necessary.
========================================
【Other expenses】
※ Contract Renewal Fee:
 15,000 yen(Tax not included)
※ Move out Administrative Fee:
5,000 yen (Tax not included)
========================================
【OPTIONAL】 
・Spraying Insecticide:8,000Yen(Tax not included)
・Bedding sales:20,000Yen(Tax not included)