Hippo House Kanamachi was built in Jan. 2017. Kanamachi borders both Chiba and Saitama prefectures. Great access to Ueno, Akihabara, Kashiwa, or Funabashi.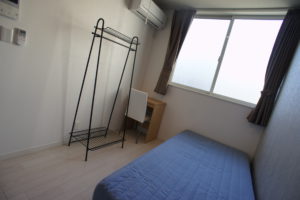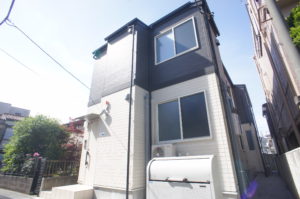 It is quite easy to access the center of Tokyo via the Chiyoda Line. The Keisei Kanamachi Line also allows good access to areas in Chiba such as Kashiwa and Funabashi. Kanamachi used to be a very quiet area but has changed in recent years with lots of redevelopment and new business. This location has been popular among students of the Tokyo University of Science campus in Kashiwa. A brand new sharehouse with stylish furnishings and fully equipped common area; comfortable, safe and secure at a very reasonable rent rate (35,000 yen – first floor, 37,000 yen – second floor).        

===============================================
ADDRESS: 5-5-13, Kanamachi, Katsushika-ku, Tokyo, 125-0042, Japan
Nearest Station: South Exit of Kanamachi Station on the JOBAN LINE (9 minute walk) 
ACCESS: (JOBAN LINE & TOKYO METRO CHIYODA LINE)
UENO in 30 minutes * KASHIWA in 20 minutes * AKIHABARA in 30 minutes * OMOTESANDO in 40 minutes * FUNABASHI in 30 minutes

===============================================
【Contract period】 
Fixed Term, 11 months (renewable)
【Rent & Common Fee】
Please refer to the Vacancy Section with rates and initial fees.
※ Breakdown of Common Fee
Cleaning management fee · Electricity
Gas · Water fee · ALL INCLUDED 
Consumables expenses
(toilet paper, kitchen detergent, etc.)
========================================
【Initial cost】
+Entrance fee: 15,000 yen(Tax not included)
+Cleaning fee: 20,000 yen(Tax not included)
+Guarantor company fee: 20% of total monthly rent
========================================
About The Guarantor Company

Company Name:
Global Trust Networks Co.,Ltd. (GTN)
●Guarantor Fee:
20% of the total monthly rent
(When the monthly rent is less than 10,000 yen, the Guarantor fee will be 10,000 yen)
●① + ② Documents Required
①
Submission of a copy of Alien Registration Card 
and Copy of passport is required

②Attribute certificate (For Students)
Student:ID card
Before enrollment: Enrollment permit or acceptance notice is sufficient.

For Workers
Health insurance card or salary details for three months
Before joining the company: Proof of employment or employment contract
※Family emergency contact in home country + an Emergency contact in Japan
 Is necessary. 
========================================
【Other expenses】
※ Contract Renewal Administrative Fee
 15,000Yen(Tax not included)
※ Move out Administrative Fee
5,000Yen (Tax not included)
========================================
【OPTIONAL】
・Spraying Insecticide: 8,000 yen (Tax not included)
・Bedding sales: 20,000 yen(Tax not included)